March 4, 2023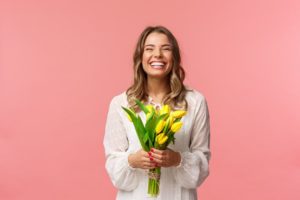 The days are getting longer, and the flowers are beginning to bloom. That means springtime has arrived! Everything becomes new again as the weather begins to warm up. You can include your smile in this season of renewal, too. There is no better time than now to refresh your oral health with some simple actions. Read on to learn from your dentist in Enterprise about five easy ways to get your grin ready for spring.
#1. Replace Your Toothbrush
Is your toothbrush looking a bit worn out? If so, it's time to switch it out for a new fresh one. The Centers for Disease Control and Prevention recommends that you replace your toothbrush every three to four months. And this is not just some smart marketing tactic from the dental hygiene product industry! When your bristles are frayed on your toothbrush, your teeth are not only being thoroughly cleaned from plaque buildup, but you could be damaging your enamel. Additionally, the rough edges could also increase your chances of gum recession. Time for a new, sparkling toothbrush!
#2. Clean Your Toothbrush Holder
There are many things in a household that are so commonly used that they don't get cleaned themselves. This can include your toothbrush holder. To ensure you aren't spreading any germs and bacteria to your toothbrush, and then your mouth, be sure to thoroughly clean your toothbrush holder. You can either disinfect it in hot, soapy water or put it in the dishwasher. You will have a sparkly holder for your spring smile!
#3. Throw Out Products Past Their Expiration Dates
Believe it or not, it's not just the vegetables and containers in your fridge that have an expiration date—your dental care products do, too! Your mouthwash and toothpaste have a shelf life and if you use them past it, they are likely to not be as effective. Take the time to do a spring cleaning on your oral hygiene products for those that are past their prime…and replace them with new items you'd like to try.
#4. Enhance Your Smile
With springtime comes special events like weddings and graduation ceremonies. You can always consider upgrading your smile with cosmetic dental treatments. If you have always wanted straighter pearly whites, you may want to consider ClearCorrect. These clear, discreet braces conveniently align your teeth over time. By next spring, you can have a whole new smile!
#5. Schedule a Routine Cleaning
In addition to your daily oral hygiene routine, visiting your dentist every six months is essential to maintain healthy and beautiful pearly whites. Your dentist will professionally clean and polish them, as well as remove any tartar buildup. They'll also give you a thorough dental exam, which will help detect any issues before they become more serious. You'll leave your dental office with a fresh, clean smile and ready to enjoy all that spring has to offer!
About the Author
Dr. Tyler Schaffeld and his team are eager to help you have a whole, healthy, and beautiful throughout every season of the year! He earned his Doctor of Dental Medicine from Oregon Health & Science University, where he graduated second in his class. By offering customized, high-quality care, his goal is to keep your oral health in top condition with a full range of dental services. To schedule an appointment, visit his website or call 541-263-5435.
Comments Off on 5 Easy Ways to Get Your Smile Ready for Spring!
No Comments
No comments yet.
Sorry, the comment form is closed at this time.