Creating Beautiful Smiles through Cosmetic Dentistry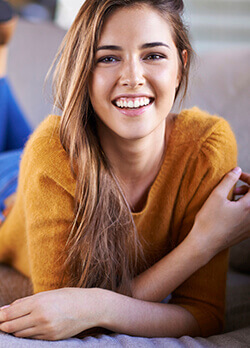 What's keeping you from smiling with confidence? If the reason has anything to do with stained, cracked, chipped, or misaligned teeth, Dr. Schaffeld offers cosmetic dentistry services to revitalize your smile. With services like teeth whitening and all-ceramic restorations, we're confident we can dramatically improve the appearance of your teeth.
During a cosmetic consultation, our Enterprise dental team assesses your needs and discusses your goals with you. Based on what we discover during your visit, we create a fully customized treatment plan to help you achieve the smile you've been dreaming of.
Tooth-Colored Fillings
In the past, dentists used metal (amalgam) fillings to treat cavities. Because amalgam fillings are a dark, unattractive gray, patients who have undergone treatment with them feel self-conscious about smiling afterward. Thankfully, there's a new way of treating cavities. With tooth-colored fillings, we provide you with the help you need without compromising your appearance. What's more, tooth-colored fillings are a more conservative option than amalgam fillings. As a result, we keep more of your natural smile intact.
MTM® Clear Aligner
A number of issues can occur with the alignment of front teeth in adulthood -- but many patients forgo orthodontic treatment because they do not want to spend two or more years wearing metal brackets and wires on their teeth. Fortunately, there is a better, faster method for improving the appearance of the teeth that show when you smile. The MTM® Clear Aligner improves misaligned teeth faster and more discreetly than other treatments, including other clear aligner systems. Keep reading to learn more about this orthodontic option from Dr. Schaffeld in Enterprise.
Would you like to know which of our cosmetic services are right for you? Call our Enterprise dental office today to schedule a consultation. Dr. Schaffeld offers cosmetic dentistry to patients from Joseph, Lostine, and all surrounding areas.