Restoring Vulnerable Smiles with Custom-Made Crowns and Bridges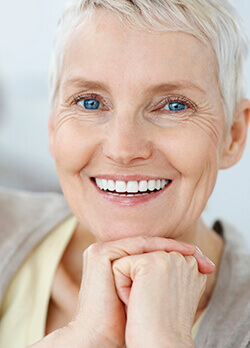 Is your smile vulnerable because of advanced decay, injury, or a missing tooth? Dr. Tyler B. Schaffeld has two restorative solutions—dental crowns and dental bridges—to repair your dental health and wellbeing. In each case, we design a prosthetic with your unique needs in mind. We're committed to giving each and every one of our patients the personalized help they need to reclaim good oral health.
Dental Crowns
If decay or an injury have compromised the strength and beauty of one of your teeth, Dr. Schaffeld can restore it with a dental crown. Dental crowns are placed over vulnerable teeth to strengthen them and prevent the need for a root canal or an extraction.
In most cases, we can place a custom-made crown in just a two appointments. In the first, our Enterprise team preps the tooth, takes an impression of it, and places a temporary crown. Then, our lab will use the impression to craft a custom crown. When it's ready, you'll return to our office to have your temporary replaced with your permanent restoration.
Dental Bridges
Dental bridges are designed to help patients fill in a gap left by the loss of a tooth. They're composed of a custom-made prosthetic tooth plus one or two abutment crowns. These abutment crowns are placed over healthy existing teeth and provide the entire restoration with stability. Your bridge will be permanently attached to help you enjoy better health and confidence for years to come.
Caring for Your Restoration
To ensure that your custom-made restoration enjoys a long life, proper care and maintenance is essential. Maintain a regular brushing and flossing routine, and be sure you visit Dr. Schaffeld every six months for dental cleanings and exams.
Getting Started
Are you ready to start transforming your smile? Call Tyler B. Schaffeld, D.M.D. today to reserve your consultation. During your visit, Dr. Schaffeld thoroughly assesses your needs and recommends either a crown or bridge. If your jaw is strong enough, we may even discuss the possibility of a prosthetic supported by a dental implant.
Our office is delighted to offer crowns and bridges to patients from Enterprise, Wallowa, Lewis, and nearby communities.