June 17, 2020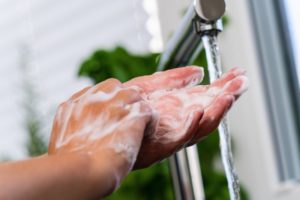 Excellent hand hygiene has long been promoted by mothers around the world as well as the Centers for Disease Control and Prevention to keep away sicknesses like the common cold and the flu. While social distancing is the best way to stay safe in the COVID-19 pandemic, regularly washing your hands is also essential to protecting yourself and your loved ones. Are you using the proper techniques to prevent spreading infectious particles with your hands? Your Wallowa County dentist shares a few simple tips to keep in mind throughout the pandemic.
How to Properly Wash Your Hands
Half-hearted hand hygiene isn't enough to keep the coronavirus at bay. If you aren't spending enough time or using the wrong techniques, germs can linger on your hands even after you wash. Here are the five steps to thorough handwashing:
Wet your hands with running water.
Apply soap and wash every surface of your hands.
Be sure to spend time cleaning your fingertips, along your fingernails, and underneath any jewelry.
Rinse off all the soap gently with running water.
Dry your hands completely, preferably with a disposable (paper) towel.
The Most Important Times to Wash Your Hands
Generally speaking, you should always wash your hands:
Before eating
Before leaving the bathroom
After handling raw food, garbage, or animals
However, since COVID-19 can live on some surfaces for minutes, hours, or days at a time, you should also be washing your hands:
After returning from a public place like the grocery store.
Directly after sneezing, coughing, or blowing your nose.
Before you touch your eyes, nose, or mouth.
When to Use Hand Sanitizer
Contrary to what many people think, hand sanitizer isn't more effective at cleaning your hands as washing with soap and water. However, experts agree that it's an acceptable substitute if washing your hands isn't an option. Always use a 60% alcohol hand sanitizer to effectively disinfect your hands and carefully follow the printed instructions. Usually, you'll apply a small amount to one hand, then rub it all over both hands for at least 20 seconds.
Hand hygiene will always be an important part of staying healthy, but it is especially crucial during the COVID-19 pandemic. Keep yourself, your loved ones, and your community safe by remembering to regularly wash your hands!
About the Author
The talented dental team of Tyler Schaffeld's practice has been keeping the smiles of Enterprise, OR happy and healthy for over 40 years now. To Dr. Tyler Schaffeld, there is nothing more important than the wellbeing of his patients, staff, and community. He has been closely monitoring the COVID-19 pandemic as well as the recommendations put forth by the CDC. He encourages his patients to practice excellent at-home dental hygiene, regular handwashing, and social distancing. If you have any questions or concerns, please feel free to reach him via his website or at (541) 426-3783.
Comments Off on The Right Way to Keep Your Hands Clean in COVID-19
No Comments
No comments yet.
Sorry, the comment form is closed at this time.