April 16, 2020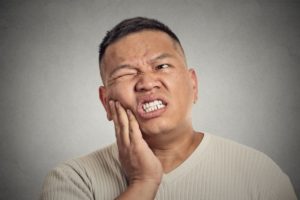 You probably know to call your dentist right away if you have a cracked or knocked-out permanent tooth. However, not all dental emergencies are so easy to identify. How can you tell if that unusual dental symptom or new pain in the back of your mouth needs urgent dental care? Here are ten easily overlooked signs that you need to call your Wallowa County dentist right away to save your smile.
1.) You Taste Metal in Your Mouth
When a metal filling or crown is damaged, it can cause you to taste metal in your mouth. Even if you're not in pain, it needs to be treated right away to protect the vulnerable tooth from damage or infection.
2.) You Have a Canker Sore That Won't Heal
Canker sores and other cuts in your mouth that haven't healed after two weeks may be infected. The wound may become more painful and the bacteria may spread throughout your mouth if left untreated.
3.) You Wake Up with Headaches or Jaw Soreness
Routinely waking up with headaches or jaw soreness is often a symptom of grinding your teeth in your sleep. This condition is known as bruxism, and it puts you at a higher risk of broken teeth and TMJ disorder.
4.) Your Gums Ache and Bleed Easily
Inflamed, tender gum tissue that bleeds easily may have a bacterial infection known as gum disease. If it's not treated early enough, this condition can lead to permanent jawbone damage and tooth loss.
5.) You Have an Intense, Long-Lasting Toothache
While the most common cause of tooth pain is tooth decay, it can also be the result of a serious infection or damage. Your dentist can provide immediate relief as well as treatment for the underlying issue.
6.) Your Tooth Suddenly Goes Numb
If a previously painful tooth suddenly goes numb, dangerous bacteria may be attacking its roots. This could be a symptom of a dental abscess that needs to be drained and treated right away.
7.) You Have A Loose Permanent Tooth
Permanent teeth only become loose as a result of damage or serious infection. You need to see your dentist right away to stabilize it, prevent any further damage, or eliminate the destructive bacteria.
8.) You Have A Small Bump on Your Gums
A small, pimple-like bump on your gums is a symptom of a dental abscess, especially if it's near a discolored or painful tooth. To safely drain it and treat the underlying infection, see your dentist right away.
9.) You're Experiencing Fatigue or a Fever
If you have a serious oral infection, you may experience fatigue or a fever as your body attempts to combat it. If left untreated, this infection may become life-threatening, so seek immediate dental care.
10.) Your Face, Jaw, or Neck is Swollen
Another symptom of a dangerous oral infection is swelling in the jaw, face, or neck. See your dentist as soon as possible. If you are having difficulty breathing or swallowing, head straight to an ER instead.
About the Author
Whether you need a routine teeth cleaning or urgent dental care, Dr. Tyler Schaffeld and his talented team are here to help. Their Enterprise office is equipped with state-of-the-art technology and options for sedation dentistry to ensure that you are as comfortable as possible while you receive the excellent oral health care you deserve. They offer a wide variety of services including root canals, gum disease therapy, and dental crowns to help you overcome whatever is standing between you and your ideal smile. If you're experiencing a dental emergency, don't hesitate to contact them via their website or at (541) 426-3783.
Comments Off on 10 Signs That You Need Emergency Dental Care
No Comments
No comments yet.
Sorry, the comment form is closed at this time.