March 11, 2021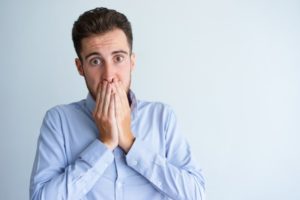 Gum disease is an incredibly common oral health condition. In fact, some studies report that about 70-80% of the US population suffers from some level of it! Thankfully, great oral hygiene and dental care are usually enough to keep it at bay. However, did you know that certain genetic predispositions, health conditions, and daily habits could be putting you at a higher risk of gum disease? A little awareness can go a long way in keeping your smile healthy, so let's take a look at the top eight most common risk factors of gum disease.
1.) Stress, Diabetes, or a Lowered Immune System
If your immune system isn't as strong as it should be, your gums will naturally be at a higher risk of infection. Those with diabetes, stress disorders, and other conditions that reduce the efficiency of the immune system should take extra care of their gum health.
2.) Certain Medications
Experts report that certain medications can increase a person's risk of gum disease, such as oral contraceptives, steroids, anticonvulsants, calcium channel blockers, and chemotherapy. Additionally, medications that cause dry mouth make it easier for bacteria to grow and attack the gums, which raises your risk of gum disease.
3.) Crooked Teeth & Poor Oral Hygiene
Lacking oral hygiene and crooked teeth both encourage plaque and bacteria buildup in your mouth. Some of these particles can infect your gums and cause gum disease, along with other problems.
4.) Lacking Nutrition & Obesity
The bacteria at the root of gum disease feeds off of sugars in the foods you eat, so an unhealthy, sugary diet will encourage more bacteria growth. Additionally, obesity lowers your immune system, which can leave your gums more susceptible to infection as well.
5.) Clenching or Grinding Your Teeth
Researchers believe that clenching and grinding your teeth (which is a condition called bruxism) damages and weakens the gum tissue. Not only does this put you at a higher risk of gum disease, but if an infection has already begun, this can accelerate bruxism's destructive progress.
6.) Hormone Changes in Women
Hormonal fluctuations in woman, especially during pregnancy, can cause a boosted inflammatory response to bacteria and plaque in the mouth. If you're expecting, make sure to watch out for "pregnancy gingivitis" to protect yourself and your baby from the effects of gum disease.
7.) Smoking or Chewing Tobacco
Tobacco use can wreak havoc on your mouth. This bad habit drastically reduces your body's ability to heal and fight off infections like gum disease. What's more, tobacco use can also interfere with how well gum disease treatments work for you!
8.) Hereditary Factors & Genetics
Certain genetic predispositions can cause a higher risk of gum disease to run in the family, so keep tabs on the oral health of your loved ones!
What to Do If You're At-Risk
If you have one of these risk factors, there are several important lifestyle changes and healthy habits you can implement that will help keep your smile safe from gum disease. One of the best things you can do is see your dentist every six months for a checkup and cleaning, or more often if they recommend it. They'll be able to give you personalized preventive are and spot the earliest warning signs of gum disease so you can take action right away!
About the Author
Dr. Tyler Schaffeld is proud to offer gentle and effective dentistry for smiles of all ages in Enterprise and the families of Wallowa County. He and his dedicated team use the latest dental techniques and technologies to help all their patients achieve optimal oral health. Should you suspect you're dealing with gum disease, he has modern periodontal therapy treatments that can help get you back to enjoying your happy, healthy smile right away. If you're concerned about your risk of gum disease, don't hesitate to contact him via his website or at (541) 426-3783.
Comments Off on Top 8 Factors That May Be Increasing Your Risk of Gum Disease
No Comments
No comments yet.
Sorry, the comment form is closed at this time.