December 21, 2019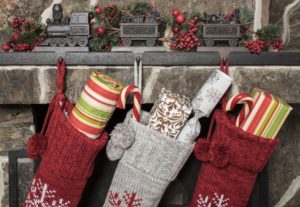 Getting your children to keep up healthy dental habits can be a challenge, especially around the holidays. With hectic work and school schedules, crazy amounts of cooking and cleaning, and an endless supply of sugary treats everywhere, it's easy for dental habits to be put on the backburner. Alongside 1.76 billion candy canes and 150 million chocolate Santas made annually, it can be a tough time of year for your teeth. But don't be discouraged! Your dentist in Enterprise has some helpful tips for you and your family to keep up your good dental habits this holiday season. Try these teeth-friendly stocking stuffers to get the whole family excited about practicing good dental habits!
A Brand New Toothbrush
Did you know that your toothbrush should be replaced every 3-4 months? If that's something you've let slide this year, now is the perfect time to make a change and slide some new toothbrushes into your family's stockings. For younger children, a brightly colored toothbrush with their favorite cartoon character is a great option. Be sure to choose a smaller toothbrush with soft bristles for them.
Older children (and even some adults) would be excited to find a new electric toothbrush in their stocking this year. Electric toothbrushes can come with a variety of built in features, like timers to ensure that your teeth are being brushed for a full two minutes. With an electric toothbrush, toothbrushing can become more fun and efficient and less of a boring chore.
Flavored Floss and Toothpaste
Another way to get your family excited about practicing great dental habits is to shake up the normal mint toothpaste routine. A tube of flavored toothpaste can be a great stocking stuffer that also makes toothbrushing new and exciting. These days, toothpaste comes in a variety of unusual flavors like watermelon, citrus, cinnamon, and more that your children will be excited to try!
Flossing is an important dental habit that children and adults alike find boring. By slipping some flavored floss into this year's presents, your family might come to look forward to it! A new flavor like grape, orange, strawberry, and bubble gum can make flossing more fun!
Smile-Friendly Snacks
With so many sweets around for the holidays, it's no surprise that some of those sugary goodies end up in your children's stockings. Which isn't a horrible thing: if you choose to indulge in your children's sweet tooth, try to go for darker chocolates that have less sugar than their counterparts. Sugar- free gum and lollipops are also a great alternative to overly sugary snacks, as well as small fruits like tangerines. Whatever holiday treat lands in their stockings, the most important thing is to make sure your family is brushing their teeth after a long day of snacking!
Helping your children keep up good dental habits can be challenging, especially around the holidays. This year get them excited about taking care of their teeth by giving them some tooth-friendly stocking stuffers!
About the Author
Dr. Tyler Schaffeld is a general, preventive, and cosmetic dentist based in Enterprise, OR and a graduate of the Oregon Health and Science University. As a new father, Dr. Schaffeld knows the importance of getting children excited about taking care of their dental health. If you'd like to know more tips for smile-friendly gifts this holiday season, you can reach him at his website or at (541) 426-3783.
Comments Off on Smile-Friendly Stocking Stuffers for Better Dental Habits
No Comments
No comments yet.
Sorry, the comment form is closed at this time.