May 16, 2023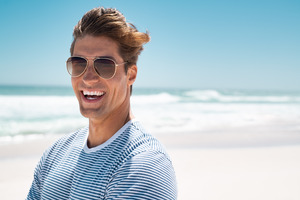 Plenty of families take advantage of the summer months to go traveling. If you're planning a big vacation, making time to visit your dentist might be one of the last things on your mind. However, scheduling an appointment before you leave on your trip can make a bigger difference than you might think! Here are just a few of the reasons why.
You Can Make Dental Emergencies Less Likely to Happen While You're Away from Home
Toothaches, lost crowns, and other dental emergencies are never fun, but they can cause even more stress and anxiety than normal if they strike while you're away from home. The good news is that sometimes a trip to the dentist is all it takes to prevent urgent oral health issues. Your dentist can screen for small problems and treat them as needed. As a result, you'll be able to leave town with confidence knowing that your smile is in good shape.
You Can Find a Convenient Appointment Time More Easily
Do you often have to schedule around work to see the dentist? If so, summer can give you the perfect opportunity to set up an appointment. Since you're taking several days off anyway, you can simply set aside a free morning or afternoon for a dental visit. In general, it's easier to find time for dental checkups during the summer since your family's schedule is likely to be less hectic.
You Can Make Sure Your Teeth are Protected for the Summer
You might do a good job of maintaining a smile-friendly diet under normal circumstances, but during the summer you'll probably find yourself constantly tempted by lemonade, soda, ice cream, cotton candy, and other treats that are less-than-ideal for your teeth. If you see your dentist early on, they can make sure your teeth are clean before you start indulging in summer foods and beverages, thus lowering your risk for dental damage.
You Can Give Yourself More Time to Recover
If you need an invasive dental procedure performed, you will probably need a few days to rest. Summer break can be a great opportunity to schedule this type of treatment, as you'll easily be able to find the time you need to recover at home until you're ready to return to your regular daily activities.
Summer is a convenient time to have dental work done. Whether you're currently concerned about your oral health or are simply due for a checkup and cleaning, it's worth setting up an appointment with your dentist before you leave on any big family outings.
About the Author
Dr. Tyler Schaffeld went to Oregon Health and Science University for his dental education. He enjoys forming strong, caring relationships with his patients and finding solutions to their dental needs. His practice in Enterprise offers high-quality care at a convenient location. To schedule a summer consultation with Dr. Schaffeld, visit his website or call (541) 426-3783.
Comments Off on Don't Forget to See Your Dentist Before Leaving on Your Summer Vacation!
No Comments
No comments yet.
Sorry, the comment form is closed at this time.