January 29, 2020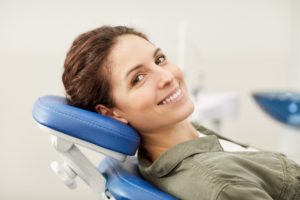 Believe it or not, but another year is already here. As you commit to eating healthier, losing weight, or paying off debt, is a trip to your dentist in Enterprise at the top of your priority list? Although you may not think you need to go regularly, routine dental care is equally important as your toothbrush and floss. Preventive care protects your teeth and gums from common oral health issues to lower your overall dental expenses. As you head into the new year, start 2020 with a trip to your dentist for a healthy, beautiful smile.
Invest in a Healthy Smile
Dental care is designed with prevention in mind to help ensure your teeth last for a lifetime by stopping certain oral health problems from starting in the first place, like tooth decay and gum disease. Although your toothbrush and floss are your first line of defense to keep your smile healthy, they aren't enough. You also need to see your dentist at least twice a year for a cleaning and checkup.
Your dental hygienist will remove any plaque or tartar left behind by your toothbrush and floss. Your dentist will also perform a comprehensive checkup to look for any concerning issues. This allows problems to be detected early to prevent them from worsening. Early intervention keeps your teeth and gums healthy to ensure your smile lasts for a lifetime.
Reduce Dental Costs
The American Dental Association recommends everyone visit their dentist at least twice a year for preventive care; however, only one-third of adults follow this advice. Often, people think they don't need to visit their dentist until after they have a problem. If you're among those who delay routine care, you might think you're saving money, but you're actually increasing your dental costs because you're opening the door to common oral health issues, like tooth decay.
Research shows routine dental care will lower your overall oral health costs. In fact, every $1 spent on prevention can save you as much as $50 on restorative or emergency services.
Enjoy Affordable Care
Now, it's easier than ever to visit your dentist without needing to worry about a large bill. Your dental insurance benefits became active at the start of the new year. Although every policy differs, most plans cover 1 to 2 preventive appointments per year. You can get the cleanings and checkups you need for only a small co-payment after paying your monthly premiums.
Get a Healthy Smile in 2020
Keep a healthy smile at the top of your priority list in 2020. If it has been over 6 months since your last cleaning and checkup, commit to visiting your dentist today!
About Dr. Tyler Schaffeld
Dr. Tyler Schaffeld combines his experience and qualifications with the latest advancements in dentistry to deliver world-class services. He caters to each patient's individual needs to create smiles that last for a lifetime. Through a focus on prevention, he will help you reach and maintain your dental goals. If you're ready to commit to a healthy smile this year, contact our office today to schedule an appointment.
Comments Off on Start the New Year with a Trip to the Dentist
No Comments
No comments yet.
Sorry, the comment form is closed at this time.