February 23, 2016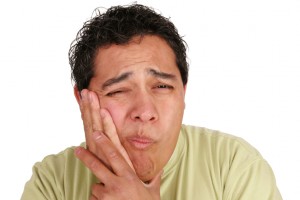 Although no one intends to have a tooth knocked out, it's a fact of life that it can happen. With more than five million teeth knocked out each year in children and adults, it can be a very scary situation that requires emergency treatment. The faster you act, the more likely the tooth can be saved. However, sometimes that's not always an option, but you do have alternatives. If you should happen to have a tooth knocked out, we encourage you to take immediate action for a higher likeliness the tooth will be saved.

What to do if your tooth gets knocked out?
Despite a tooth having been knocked out of its socket, it is possible for a tooth to be successfully replanted, allowing it to last for years. However, the success rate depends on your ability to make it to your dentist within 30 minutes of the injury.
If you have a knocked out tooth, the first thing you need to do is to pick up your tooth from the crown, not the root. Handle the tooth very carefully to prevent causing any additional injury to the tooth. While it may be tempting to try to clean the tooth, you don't want to do that. Do not use any soaps or chemicals on the tooth. In addition, don't scrub the tooth, try to dry it or place it in a tissue or cloth.
Instead, you want to reposition the tooth back into the socket as quickly as possible to increase the likeliness it will survive the trauma. If possible, gently insert the tooth back into the socket with your fingers and slowly close your mouth. Keep the tooth in place by biting down gently.
Unfortunately, it's not always possible to place the tooth back into the socket. If this is the case, you need to use an emergency tooth preservation kit or place the tooth in milk. The most important thing is to not let the tooth dry out. If you don't have the emergency solution or a cup of milk on hand, the next best thing is to place the tooth temporarily into a cup of water or place the tooth in your mouth next to your cheek.
Treating a Knocked Out Tooth
When your tooth is knocked out, you need to act quickly. Head to a dentist that offers walk-ins or emergency services to better ensure the tooth can be saved. Often, a dentist can successfully replant the tooth, but when this isn't possible, you may need a tooth replacement.
Thanks to advancements in dentistry, there are many options to replace missing teeth, such as with bridges, partial dentures and dental implants. Dental implants will offer a permanent solution to the missing tooth that will look and act as a natural tooth.
At Schaffeld Dental, we understand that time is of the essence when you've suffered an injury to a tooth, which is why we provide emergency dental care. If we are unsuccessful replanting the tooth, we have the tooth replacement procedures you need to fill the gap.
Comments Off on What to Do with a Knocked Out Tooth?
No Comments
No comments yet.
Sorry, the comment form is closed at this time.