July 12, 2023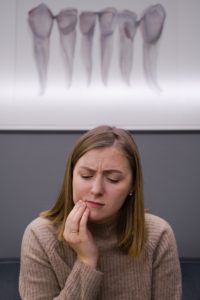 You probably never expect a dental emergency to happen to you, but it's more common than you might think. 1 in 6 Americans has a dental emergency every year. Although there's never a good time for one to happen, the last thing you want is an oral health problem ruining your vacation. A stressful situation can be more difficult when you're away from home. Don't panic, here's what you should do if you need an emergency dentist while you're away.
See Your Dentist Before You Leave
Not all dental emergencies result from accidents or trauma. Untreated dental issues are a common culprit, like cavities. A cleaning and checkup will ensure there isn't anything concerning hiding in your mouth that could turn into a big problem. You'll feel your best knowing your teeth and gums are healthy.
Plan for the Unexpected
It's best to plan ahead, just in case. Find a dentist in the area you'll be staying, so you won't lose valuable minutes looking for a dental practice if you have an emergency. It's also a good idea to create a dental emergency kit. Include items to address common dental issues, like an over-the-counter pain reliever, gauze, and disposable gloves.
Go to the ER If You Can Find a Dentist
If you can't find a dentist, head to the closest hospital. Although most emergency rooms aren't equipped to treat oral health issues, they can prescribe antibiotics and pain relievers to fight infections and reduce pain until you're able to get into a dentist.
Handling Common Dental Emergencies
Accidents can still happen, but don't worry. Here's how to address the most common dental emergencies until you see a dentist:
Toothache: Take an over-the-counter pain reliever and eat soft foods to manage your discomfort.
Dislodged Tooth: Gently push your tooth back into position and bite on gauze to hold it in place. If your tooth has been knocked out, hold it by the crown and rinse it with cool water. Don't scrub it or use any cleaners. Don't dry the tooth because it must be kept moist. Insert it back into its socket and get to a dentist within 30 minutes.
Broken Tooth: Rinse your mouth with salt water to clean debris from your mouth. It will also kill bacteria, reduce inflammation, and manage pain. Avoid chewing with the tooth until after it has been repaired.
Time is of the utmost importance to save your smile. An emergency dentist will address your pain and provide the treatment you need, so you can get back to enjoying your vacation.
About Dr. Tyler Schaffeld
Dr. Schaffeld achieved his dental degree from the Oregon Health and Science University and has regularly pursued continuing education in advanced services, like emergency dentistry. He combines biology, engineering, and art to create healthy, beautiful smiles. As a member of the American Dental Association and many other professional organizations, Dr. Schaffeld has qualifications you can trust. If you need an emergency dentist, contact our office at (541) 263-5435.
Comments Off on How to Handle a Dental Emergency While on Vacation
No Comments
No comments yet.
Sorry, the comment form is closed at this time.