August 5, 2023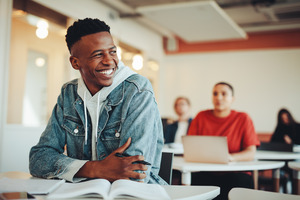 As with performance in any field, there are a lot of factors at play in your child's academic success. There are thousands of studies that have demonstrated a connection between kids' home life and their success at school, but one thing that doesn't get quite as much attention is how poor oral health can negatively affect academic performance.
You might find this connection hard to believe, but there's mounting evidence that getting your child to the dentist is one of the best things you can do if you want them to succeed academically. Here's what the studies say.
Missing School for Dental Reasons
Obviously, one of the most important things your child can do if they want to boost their grades is to make sure that they're at school as much as possible. For that reason, many parents are reticent to take their kids out of school for regular dental care.
However, a study published in the American Journal of Public Health found that among grade school children, kids missed on average 2.1 days of school each year due to oral health problems. Moreover, kids who missed school were likely to have a lower grade point average.
Regular preventive care can do a lot to prevent those kinds of oral health problems, which means that parents have a choice: either pull their kids out of school for the occasional checkup, or pull them out of school to treat a cavity.
Effect of Poor Oral Health on Academic Performance
The choice is made simple by the fact that allowing oral health problems to develop can cause serious negative impacts on how your child performs at school. One study in the Journal of Pediatrics analyzed data from the 2007 National Survey of Children's Health, which encompasses the health data of over 40,000 kids.
The study found that kids with oral health problems were substantially more likely to have problems at school and less likely to do all required homework. Moreover, oral illness was heavily associated with increased feelings of unhappiness, shyness, and feelings of worthlessness.
For the benefit of your child's academic performance, and their happiness, it's incredibly important that they see their dentist for regular preventive care.
About the Author
Dr. Tyler Schaffeld appreciates dentistry for its ability to allow him to marry biology, engineering, and art in helping his patients. He and his dedicated staff work hard each day to make both your day and your oral health better. Dr. Schaffeld received his dental degree from Oregon Health and Science University, graduating second in his class, and since opening his practice he continues to hone his clinical knowledge every day.
If you have any questions about how you can improve your child's oral health, he can be reached at his website or by phone at (541) 426-3783.
Comments Off on How to Help Your Kids Ace Exams, In and Out of the Dental Chair
No Comments
No comments yet.
Sorry, the comment form is closed at this time.