November 1, 2018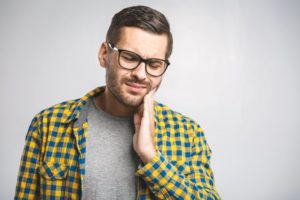 Dental emergencies can be a shocking experience. They happen more often than you think, and not many people know what to do in the event of one. Whether your watching your kids play contact sports, or you bite down on a hard piece of food, dental disasters can strike out of nowhere. Keep reading to discover the best way to handle the most common dental emergencies from your dentist in Enterprise.
What Should I Do if My Tooth is Knocked Out?
The best step you can take is to find your tooth and pick it up by the crown to avoid damaging the roots. Try to keep it moist at all times, and if you can, place your tooth back in its socket without touching the root. If this isn't possible, place it in milk, water, or in between your cheeks and gums to keep it from drying out.
Go to your dentist's office right away for emergency treatment. If you can't see the dentist, visit an emergency room as soon as possible. The sooner you get help, the more likely it is that your knocked-out tooth will be able to be replanted.
What Should I Do if I Crack My Tooth?
If you have a cracked tooth, immediately rinse your mouth out with warm water to clean the affected area. Put a cold compress on the outside of your face to stop swelling from occurring. After that, get in to see your dentist immediately. They will be able to provide the proper restorative treatment for your damaged tooth.
What Should I Do if I have a Toothache?
Toothaches can occur for many reasons, with some of them being emergencies and some not. If you have a toothache, rinse out your mouth with warm water to clean it. Gently use floss to remove any food or debris caught in the affected area. You can take over-the-counter painkillers for the discomfort, but do not put aspirin on the aching tooth or gums.
What if I Bite Down on My Tongue, Cheek, or Lip?
If you bite down on some of your mouth tissue, clean the area very gently with water and apply a cold compress to curb swelling. Depending on how severe it is, you should see your dentist or go to the emergency room immediately. If you apply pressure and the wound won't stop bleeding, seek help as soon as possible.
Now that you know what to do in the event of a dental emergency, you're ready to save you and your family's teeth in case disaster strikes. Use these tips to keep your mouth healthy and safe.
Meet the Dentist
Graduating second in his class with his DMD from Oregon Health and Science University, Dr. Tyler Schaffeld provides expert dentistry to all of his patients. He understands dental disasters can strike at any moment, which is why he offers emergency dental services. He currently runs his own practice, and he can be contacted through his website or by phone at (541) 426-3783 for any questions.
Comments Off on How to Handle Dental Emergencies with a Dentist in Enterprise
No Comments
No comments yet.
Sorry, the comment form is closed at this time.