March 25, 2022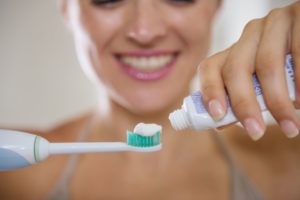 Even if it's not exactly warm outside yet, spring is officially here. If you've been meaning to get rid of some of the old junk that has accumulated in your home over the past year, now would be the perfect opportunity. However, your counters and closets aren't the only things that deserve a spring cleaning – why not freshen up your smile while you're at it? These four tips from a dentist in Enterprise can set you up for better dental health in the months to come!
1. Switch to a New Toothbrush
Most dental professionals recommend getting a new toothbrush (or switching to a different brush head if you use an electric toothbrush) every three to four months. Using it for much longer than that can cause the bristles to wear down or become frayed. This makes them less effective at clearing food debris and plaque away from your teeth. Take this opportunity to buy a brand-new toothbrush or brush head.
2. Check to See Whether Your Mouthwash Has Expired
Did you know that oral hygiene products can expire? If you've had the same bottle of mouthwash for a while, it couldn't hurt to look at its expiration date. If that date has already passed, throw the bottle out and pick up a fresh one.
3. Clean Your Case
Do you wear a nightguard to protect against teeth grinding? Are you straightening your smile with clear aligners? Have you already completed orthodontic treatment but still wear a retainer? In all of these situations, chances are you scrub or at least rinse your trays clean after you remove them. However, you should also regularly wash the case that you store them in. Otherwise, the germs and debris that accumulate inside of it will end up in your mouth. Be sure to give your case a thorough scrubbing every now and then.
4. Schedule a Professional Teeth Cleaning
At-home oral care is important, but you should also be seeing your dentist every six months for a routine checkup and cleaning. Certain parts of your mouth are virtually impossible for you to clean on your own through brushing and flossing, but the dental hygienist can expertly remove plaque from these areas and more with a professional teeth cleaning. You'll walk out of the office with a much fresher-feeling mouth. Plus, when your dentist evaluates your teeth and gums on a regular basis, you can prevent small oral health problems from snowballing into larger ones that require lengthier and more expensive treatments.
As you're tidying up your home, consider giving your teeth the spring cleaning they deserve. By keeping the above tips in mind, you can start the new season off right!
About the Author
Dr. Tyler Schaffeld has almost a decade of experience in the field of dentistry so far. Since earning his Doctor of Dental Medicine degree from Oregon Health and Science University in 2013, he has been providing families in the Enterprise, OR area with a variety of high-quality dental services. He prioritizes forming genuine relationships with patients so that he can give them truly personalized treatments in the office and recommendations for at-home care. To learn more about giving your smile a spring cleaning, reach out to Dr. Schaffeld via his website or call (541) 426-3783.
Comments Off on Freshen Up Your Smile with These 4 Spring Cleaning Tips!
No Comments
No comments yet.
Sorry, the comment form is closed at this time.