January 5, 2022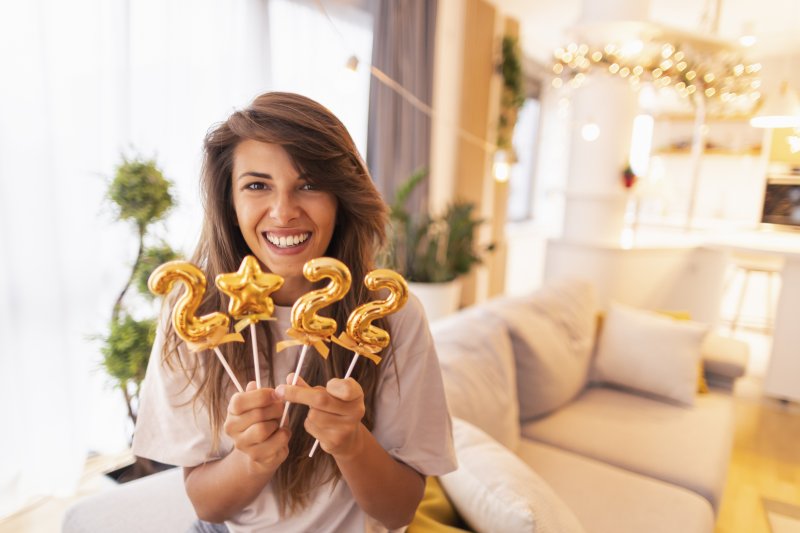 Are you wondering what you should do for your New Year's resolutions? Everyone talks about extravagant changes they can make for themselves, but some improvements just sound way out there. Fortunately, there are a few easy goals you can work on this year, and they have everything to do with building a healthier smile and better you! Here are some New Year's resolutions for improved oral health that your Enterprise dentist recommends taking on this year.
Go For a Powered Up Daily Routine
One of the most important steps to having a great smile starts with having a good oral hygiene routine. At least twice a day, brushing and flossing can significantly enhance your oral health. Not only will you keep your teeth healthy from bacteria and decay, but you'll reduce the sensitivity in your gums and actively keep any infections from developing.
Use fluoride toothpastes when brushing, and make sure to also use mouthwash when you're done. You'll feel extra fresh with clean teeth!
Commit to Healthy Diet Choices
Everything you consume is crucial to your dental and overall health. Bacteria feeds on whatever you eat, which can lead to cavities, gum disease, or other conditions. Here are some steps for a healthier diet:
Limit sugary or acidic foods and drinks
Aim for fruits, vegetables, and other nutrient rich foods
Reduce frequent snacking
Rinse your mouth with water after meals or sugary drinks
Keep Dry Mouth at Bay
Your saliva is actually very important for your teeth, providing minerals for your enamel, washing away debris, and retaining a good pH level. Dry mouth, then, can contribute to dental issues in the future like cavities and weakened enamel.
Luckily, there are easy ways to reduce dry mouth. You can chew sugar-free gum, drink milk/diary products, hydrate yourself with plenty of water, and avoid excessive alcohol consumption. Keep your saliva production flowing, and you should be fine!
Say No to Tobacco
It's a well-known fact that tobacco is detrimental to your oral health. With an increased risk for everything from tooth staining to oral cancer, it would be best to avoid tobacco products all together. Your dentist can provide professional insight if you are interested in this change.
Visit Your Dentist Regularly
Visiting your dentist every six months is highly recommended for maintaining healthier teeth. They can detect and stop dental issues from becoming more serious later. Additionally, you'll be saving money by addressing the problem early.
Reaching your new goals for the new year is pretty simple once you understand the steps for a great smile. You'll be making a profound difference in your life and look amazing in the long run!
About the Author
Dr. Tyler Schaffeld, DMD earned his degree from Oregon Health and Science University in 2013. Since then, he's been providing families with a variety of quality dental services, including restorative and cosmetic treatments. Together with his team, Dr. Schaffeld can answer any questions you may have on how to start you New Year's resolutions for healthier teeth. If you want to make an appointment, visit his website or call (541) 426-3783.
Comments Off on Start the New Year Right with a Great Smile!
No Comments
No comments yet.
Sorry, the comment form is closed at this time.