December 2, 2021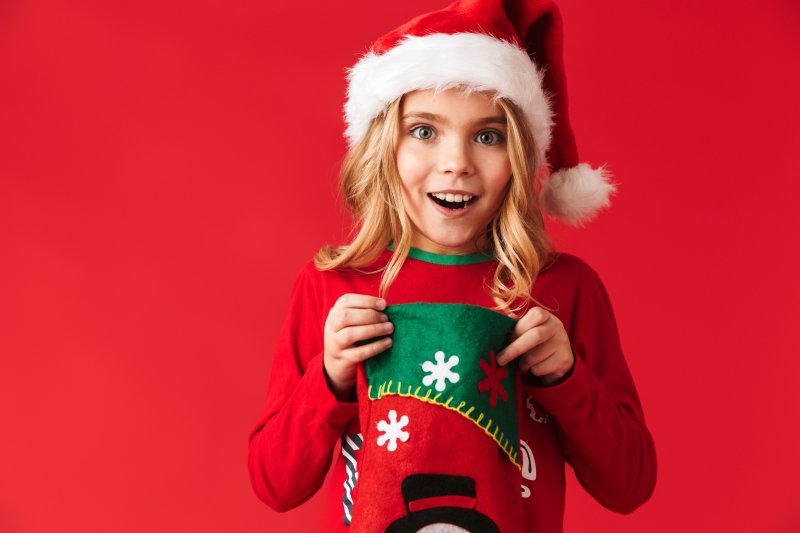 Now that the holidays are just around the corner, you are probably doing all sorts of things to prepare. Whether you are eager to put together gifts for your loved ones, listen to festive music, or pull out the old family cookbook for some delicious baked treats, you'll make some unforgettable memories. However, the last thing you want is for your children to end up with a mouthful of cavities as the new year rolls around. To counter this, here are some tooth-friendly stocking stuffer ideas for your family.
New Toothbrush
This season may just be the worst time of year from your children's teeth. With so many holiday treats around, delicious meals, and the hassle of traveling, it is easy to fall into some bad oral hygiene habits. That's why there's no better time to invest in some new toothbrushes for the family. For your children, you can find all sorts of fun options. Look for their favorite colors, cartoon characters, or even ones that play a tune when brushing!
Delicious Dental Products
As an adult, you love that fresh, minty flavor that toothpaste and mouthwash leave on your smile. However, this isn't necessarily the case for younger children – and that's okay. There are numerous fun flavors out there that your kids will love. Look for a toothpaste that is bubblegum, strawberry, or orange flavored. The most important ingredient to look for is fluoride. This natural mineral is what's so effective at protecting teeth against cavities. Look for the ADA seal of approval. This guarantees that the product is both safe and helps to keep your kids' teeth in healthy shape.
Sugar-Free Sweets
Candy that's free of sugar can be found at your local supermarket. This way, your child can have their sweet fix and you don't need to worry about the health of their teeth. Look for sugarless gum by the register or sugar-free lollipops in the candy section of the grocery store.
Healthy Snacks
The easiest snack to grab may be a bag of chips and crackers, but these aren't very tooth healthy. In fact, they can be just as harmful as sugary candy. Instead try picking out wholesome snacks, like salted nuts, string cheese, or yogurt to munch on. Not only are they delicious, but they're beneficial for oral health.
Don't' forget about your family's oral health this holiday season. Add a few of these items in their stocking so they can begin the new year with a healthy smile!
About the Author
After studying biochemistry at Central Washington University, Dr. Tyler Schaffeld earned his Doctor of Dental Medicine degree from Oregon Health and Science University where he graduated second in his class. For more ways to keep your smile healthy or to schedule an appointment at his office in Enterprise, OR, visit his website or call (541) 426-3783.
Comments Off on 4 Stocking Stuffers That Don't Harm Your Smile
No Comments
No comments yet.
Sorry, the comment form is closed at this time.