December 21, 2022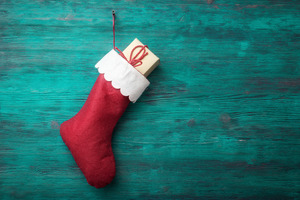 You've been putting off your Christmas shopping for too long, and now you need to pick up a few last-minute presents to fill your loved ones' stockings. You might be tempted to just get candy, but why not consider a few gifts that will help your family enjoy healthier smiles after the holidays? Below are 3 last-minute stocking stuffer ideas that your dentist might suggest.
1. Healthy Snacks
Instead of giving your loved ones chocolate and other sugary treats that could potentially raise their risk of cavities, try looking for healthier foods that they'll enjoy just as much. For example, there are many nuts that are high in calcium, phosphorous, and vitamin D, all of which can benefit the teeth and gums. Another good option is sugar-free gum, which can encourage the mouth to produce more of the saliva that it needs to wash away bacteria and food particles.
2. Great-Tasting Dental Products
Everyone needs to buy toothpaste and mouthwash every now and then, so gifting them to your loved ones can help save them time and money. But instead of getting them the same boring products that they're used to, try to see if you can find any that come in unique, fun flavors such as fruit and bubblegum.
Of course, it's important to take the time to make sure that the oral hygiene products that you buy for your family will actually do a proper job of protecting their teeth. Only buy toothpaste and mouthwash that has the ADA Seal of Acceptance. They should also contain fluoride, an essential mineral for making teeth more resistant to decay.
3. A New Toothbrush
Most dentists recommend switching to a new toothbrush every three months. As such, many of your loved ones could probably benefit from getting a toothbrush for Christmas. When looking for a toothbrush for the youngest members of your family, see if you can find one that has their favorite licensed character on it.
For the adults in your family that still use manual toothbrushes, you might consider getting them an electric toothbrush for the holidays. The extra power that they provide can make brushing easier, and they tend to do a more efficient job of getting rid of the plaque that can lead to cavities and gum disease. There are many types of electric toothbrushes on the market, so take the time to do a little research and find one that best suits the giftee's oral health needs.
A healthy smile is important for getting the most out of life. With the above gift ideas, you can help the people who matter most to you take better care of their teeth long after the holidays.
About the Author
Dr. Tyler Schaffeld earned his DMD from Oregon Health and Science University in 2013. At his practice in Enterprise, he helps patients and their families protect and improve their smiles with a wide range of preventive, restorative, and cosmetic treatments. If you'd like to schedule a consultation with Dr. Schaffeld after the holidays, visit his website or call (541) 426-3783.
Comments Off on 3 Last Minute, Smile-Friendly Stocking Stuffers
No Comments
No comments yet.
Sorry, the comment form is closed at this time.