October 6, 2022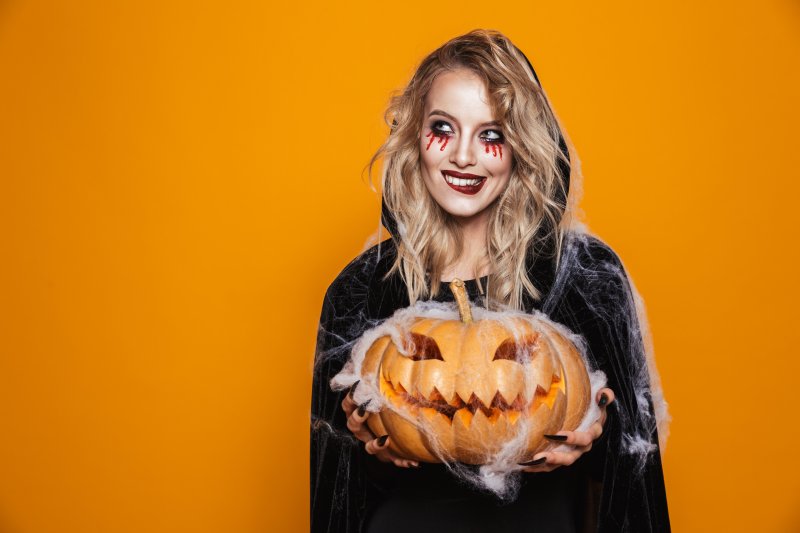 Have you started decorating the house with spooky decorations? Are you planning on carving a pumpkin? Ready to pick out your Halloween costume? There are plenty of things to enjoy during the spooky season, especially candy. While munching on your favorite sugary treats can be fun, it can also spell disaster for your pearly whites. Read on to learn four ways to keep your teeth from becoming spooky from your dentist in Enterprise!
#1: Pick Your Candy Wisely
Whether you stockpiled candy for trick-or-treaters or accumulated plenty of sugary snacks from your Halloween festivities, you'll want to choose your treats wisely. Although sugar isn't the best for your oral health, certain candies can be more harmful than others. Be sure to avoid treats that are too gummy, as they can stick to your smile for much longer, increasing the risk of developing cavities. Sour candies are also acidic, which isn't a good mixture for your protective layer of enamel. Instead, try munching on chocolate (preferably dark chocolate), as this can be rinsed off much easier.
#2: Enjoy Your Candy During Mealtime
You might be tempted to reach for something sweet in between your meals. However, the more frequently you indulge in candy, the higher the chance of leaving sugars to remain on your teeth for hours. Additionally, your saliva production is dramatically reduced when you snack as opposed to when you eat a full-course meal. If you want to enjoy your favorite candies, try doing so alongside your lunch or supper.
#3: Brush & Floss Regularly
Do you often forego cleaning your smile so you can simply get to sleep? Without cleaning your teeth, you can end up allowing the sugars to stay and the bacteria to grow. To avoid complications like dental decay or cavities, you need to brush twice a day and floss daily or after every meal. Be sure to also rinse with mouthwash often and schedule routine dental checkups and cleanings every six months.
#4: Maintain a Well-Balanced Diet
You don't have to refrain from enjoying your favorite candies during the Halloween season. As long as you stick with a well-balanced diet most of the time, you should be able to enjoy sugary treats without risking your oral health. Keep a vitamin-rich, nutrient-dense diet, and snack on healthier alternatives like celery and apples to help maintain strong teeth and gums.
Halloween can be a spooky time for the monsters and ghouls, not your pearly whites. Keep these few tips in mind this season, and you'll be able to keep your teeth in pristine condition!
About the Author
Dr. Tyler Schaffeld studied at the Oregon Health and Science University. He also regularly pursues continuing education to refine his skills and expertise. He offers a wide selection of high-quality and comprehensive services, including dental checkups/cleanings, gum disease therapy, and oral cancer screenings. If you'd like to know more about preserving your smile this season, visit his website or call him at 541-426-3783.
Comments Off on 4 Ways to Keep a Fang-tastic Smile During Halloween
No Comments
No comments yet.
Sorry, the comment form is closed at this time.