February 7, 2019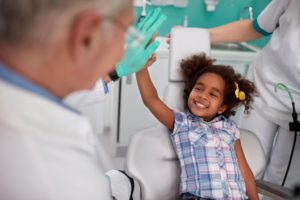 Introducing your child to healthy dental habits gives them access to a lifetime of good dental hygiene. Tooth decay can start as early as six months old, so establishing the basics of brushing and flossing as well as regular dental visits is essential to their health as adults. Your dentist in Enterprise gives tips and tricks to establish positive routines for children and their teeth.
The Importance of the First Visit
The first dentist visit can be intimidating for a child and can make or break their willingness to participate in good dental hygiene as adults. Creating a positive first experience can result in less dental anxiety, so we emphasize a few tips to do so for Children's Dental Health Month:
Highlight the positive aspects of going to the dentist like keeping their smile shiny and healthy.
Making appointments earlier in the day when children are better rested could make the visit run more smoothly.
Try not to surprise them with the visit—instead, plan and talk with them about what they should expect.
These tips can create a strong foundation to get your child comfortable with healthy dental habits. The first visit can give you insight into whether or not your child has any cavities or injuries, kinds of healthy and unhealthy teething habits and helpful tips for preventive care.
Small Ways You can Affect Your Child's Dental Habits
Children often learn by watching their parents—which is why it's important you are able to show them the value in visiting the dentist and taking care of their teeth and gums. When your child sees the care you put into your dental hygiene, it will have a lasting effect on them.
You can demonstrate the basics of flossing, brushing and using mouth rinse every day. Having these tools accessible and available to them will help them establish routines with them. Making dental hygiene into a chore can create a negative relationship, so it's important to make it enjoyable and fun. You can do this by playing games while they brush or playing their favorite song, having them brush until it's over. You can also find fun and encouraging dental hygiene products for children in the store like flavored toothpastes and fun toothbrush holders.
Because dental diseases and injuries such as gum disease and cavities are so common, it's important to establish a regular dental routine for your child. Dental diseases can affect your child's self-confidence such as their smile and ability to pay attention. It can also negatively affect their quality of sleep and their ability to eat certain foods. Giving your child a sound foundation for dental health will impact them for the rest of their lives.
About the Author
Dr. Schaffeld focuses on creating caring relationships with his patients that last. Graduating second in his class at Oregon Health and Science University in 2013 allows him to give quality dental assistance to his patients. For more information or questions, please contact 541-263-5435 or visit Dr. Schaffeld's website.
Comments Off on Your Dentist in Enterprise on Kid's Dental Health
No Comments
No comments yet.
Sorry, the comment form is closed at this time.