April 19, 2018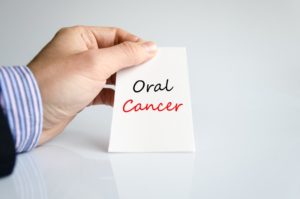 Your dentist in Enterprise is your smile's best friend. They help vanquish plaque and tartar from your teeth, give you tips on how to prevent decay, and are always ready to help out if you run into a dental problem. But did you know that your dentist does even more? An oral cancer screening should always be part of a routine dental appointment. Let's talk about why this is so important and what you can expect during your screening.
The Importance of Oral Cancer Screening
Sadly, thousands of people lose their life to oral cancer each year. For many of them, it is because the disease wasn't caught at a stage where it was fairly simple to treat; it spread to distant parts of their body and caused irreparable damage. It's possible that regular oral cancer screenings could have saved their lives.
What about you? You might think that since you don't smoke, it isn't that big of a deal to get screened for oral cancer. However, anyone can develop this illness — including folks who have never touched a cigarette. There are many other risk factors that can make it more likely that you'll suffer from oral cancer, including:
Age and gender. There is a higher prevalence of oral cancer among older men.
Heavy alcohol consumption.
Excessive sun exposure. This is a factor in many cases of melanoma on the lips.
The human papilloma virus. Certain strands of HPV have been linked to oral cancer, and many people do not even realize that they have the virus.
A weakened immune system.
An unhealthy diet.
It's Easy to Get Screened
Even if you believe you don't have any of the risk factors for oral cancer, we still encourage you to get screened at least once a year as part of your yearly dental care routine. When you come into our office for your cleaning and exam, we'll take a few minutes to do a quick and painless screening. The tactile and visual check will look for any signs of oral cancer in or around your mouth, such as:
Swollen lymph nodes
Patches of discoloration
Strange bleeding
Odd sores
Also, please mention it to us if you've noticed any strange symptoms lately, such as unexplained changes to your voice or areas of pain around your mouth.
If the screening reveals any causes for concern, we'll urge you to schedule an appointment with a doctor who can take a biopsy of the suspicious spot and give you an official diagnosis.
Oral cancer is a serious condition, but through prevention and regular screening, you can protect yourself from this devastating disease.
About the Dentist
Dr. Tyler Shaffeld, your dentist in Enterprise, loves getting to know his patients and helping them maintain healthy smiles. He understands the importance of oral cancer screenings and encourages everyone to get screened regularly. If it has been a while since your last dental checkup and you're ready to schedule an appointment, please contact us at 541-426-3783.
Comments Off on Your Dentist Reminds You to Schedule Your Oral Cancer Screening!
No Comments
No comments yet.
Sorry, the comment form is closed at this time.