September 17, 2017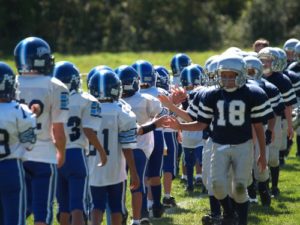 You're watching your child play their favorite sport, and you're having a great time. You're cheering on your young athlete as they try their best to help their team. But then — bam! Your child takes a hard hit, and suddenly you're rushing to your local emergency room because your little one suffered a serious injury. Incidents like this are all too common for children who play sports, but a custom mouth guard from your dentist in Enterprise can help prevent damage and keep your kid healthy.
Preventing Oral Injuries
Some sports require that players wear mouth guards, but even if your child doesn't play a contact sport, a mouth guard is still a good idea. You never know what might happen on the field; even in sports like baseball and track and field, mouth injuries are possible.
A guard serves as a shield over your child's teeth, and it can go a long way toward preventing injuries to the lips, tongue, face, or jaw. It cushions blows and helps to keep that smile in working condition.
Not only will the mouth guard protect your child, but it will also protect your wallet. Although some parents balk at the idea of paying for a custom mouth guard designed by a dentist, these oral devices can actually save you money. The cost of replacing a tooth or getting other extensive dental work done can set you back thousands of dollars, whereas a custom mouth guard may only cost a couple hundred dollars.
Preventing Concussions
Losing a tooth or suffering another oral injury is nothing to take lightly, but some sports present even worse dangers. Concussions are a concern in football and other contact sports, but fortunately, a mouth guard can help to prevent these incidents as well.
However, not just any mouth guard will do the trick. A study found that players who wore custom mouth guards were half as likely as those with store bought mouth guards to suffer from a mild traumatic brain injury. The mouth guards can absorb shock and stabilize the neck and head. Furthermore, custom guards are often thicker than stock ones, leading to superior protection.
Delivering Comfort
A mouth guard that you pick up from your local store will provide a low level of protection for your child, but it may be extremely uncomfortable. It might be the wrong size, and it might not fit well around your young athlete's teeth.
A custom guard is easier to wear, which means your child might be less likely to forgo wearing it. Even kids with braces can have a comfortable, custom guard!
Your young athlete deserves to have a healthy smile and a healthy brain, and a custom mouth guard from your dentist in Enterprise can help make it happen.
About the Author
Dr. Tyler Schaffeld is your passionate, friendly dentist in Enterprise. He wants to help families have beautiful, undamaged smiles, which is why he is happy to design mouth guards for young athletes. If you have questions about how your little one's teeth can stay safe on the field, contact our office at 541-426-3783.
Comments Off on Dentist Explains Why Mouth Guards for Kids Are So Important
No Comments
No comments yet.
Sorry, the comment form is closed at this time.