August 20, 2017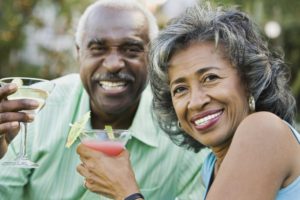 The waitress is patiently waiting to take your order. You know you won't be able to chew the steak you really want to order because of your missing teeth, so you choose the safe route and order soup again. You haven't been able to enjoy a meal at a restaurant since you lost your tooth because you feel embarrassed about eating in front of others. You don't have to feel self-conscious any longer! Your dentist in Enterprise has solutions for you and here are some of your options for tooth replacement.
Partial and Full Dentures
Dentures are designed to replace an entire arch of teeth. They are typically removable and made of acrylic. Today's dentures are created with your facial features and skin tone in mind so they provide a better fit and more appealing aesthetic. Dentures may require a bit of a learning curve as you get used to eating and talking with them; however most patients appreciate how they immediately restore their smile.
A partial denture is an ideal option for patients missing multiple teeth who still retain a large number of healthy teeth. A partial is also removable, but it utilizes       metal clasps that use your healthy teeth as anchors. Prosthetic teeth are attached to the appliance and they fill in the open spaces much like a puzzle piece. Your partial is designed to match your existing teeth, which completes your smile in a natural way.
Dental Implants
Dental implants are an ideal replacement option for one or more missing teeth. Implants are a reliable treatment as they offer a 95% success rate. The secret behind their success lies in the fact that they replace not only your tooth, but also your root.
A titanium post is placed into your jawbone during a simple surgical procedure. When it's given the appropriate time to heal, it naturally integrates with your bone and creates a firm foundation to support your new tooth.
A customized porcelain crown takes the place of your tooth and provides you with all the function that you had before such as eating and chewing. You'll also be able to brush and floss normally, which makes your implant easy to care for.
Implant Supported Prosthetics
Dental implants in Enterprise are also capable of supporting dental prosthetics such as partials and dentures. Your dentist can design your denture to snap into a few strategically placed implants, which provide a more stable fit with no movement or slippage when you talk or eat. Implants give these types of prosthetics better longevity, as they protect the health of the jawbone by keeping it stimulated.
With so many great options for restoring your smile, there's really no reason for you to live with a missing tooth any longer!
About the Author
Dr. Tyler B. Schaffeld and his team enjoy taking care of patients in Enterprise, OR and the surrounding communities. He believes in building relationships with patients and listening to their needs and goals for their smile in order to provide the highest quality dental care possible.
If you would like to reach Dr. Schaffeld, you can contact him through our website or call us at 541-263-7266.
Comments Off on Your Dentist in Enterprise Explains Your Best Options for Tooth Replacement
No Comments
No comments yet.
Sorry, the comment form is closed at this time.