December 29, 2016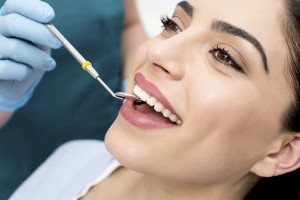 Your teeth are important for more than just eating and speaking. Your teeth play a significant role in your confidence. When you have a less than attractive smile, it is easy to find yourself not smiling as often or avoiding social situations. According to the American Academy of Cosmetic Dentistry, roughly 50% of people are dissatisfied with the appearance of their teeth. You do not have to live with a less than perfect smile. This holiday season, give yourself the gift of confidence for the new year with your dentist in Enterprise. Dr. Tyler B. Schaffeld will transform your teeth using simple cosmetic procedures.

Why Should I Choose Cosmetic Dentistry?
Unfortunately, we are often judged by the appearance of our teeth as 85% of people say unattractive smile makes someone less appealing. In addition, 99.7% believe a beautiful smile is an important social aspect. If you suffer from alignment issues, tooth discoloration, dirty teeth, or missing teeth, chances are you do not love your smile as much as you could.
Cosmetic dentistry will help resolve the cosmetic flaws that cause you to lose confidence or feel poorly judged about your smile. While cosmetic procedures were only for the vain or elite in the past, now everyone can benefit from simple, effective cosmetic services. After a consultation with Dr. Schaffeld, you will be well on your way to a radiant smile just in time for the new year.
How Can Cosmetic Dentistry Help Me?
Depending on the exact factors hurting the appearance of your teeth and the results you hope to achieve, there are several procedures that can be used to transform your smile. In some cases, Dr. Schaffeld may recommend multiple treatments to produce the highest level of results. Your treatment plan may include:
Tooth-Colored Fillings: Dark, amalgam fillings are traditionally used because they are affordable and effective. However, they cause an eyesore in your smile. You will gain a more radiant smile with tooth-colored fillings. The composite resin material is customized to match your enamel color for a filling that blends in seamlessly with your natural teeth.
MTM®Clear Aligner: Straighten your misaligned teeth with a clear alternative in less time than traditional braces. Using the clear aligners, you will move your teeth into their correct positions faster than other treatments while using a nearly invisible orthodontic option.
Dental Implants: Permanently replace missing teeth with the only form of tooth replacement to closely mimic the appearance and function of natural teeth. Dental implants will give you a complete smile while restoring your oral health and functions to smile confidently.
How Can I Transform My Smile?
If you are ready to start the new year with a stunning new smile, you need to schedule a consultation with your cosmetic dentist in Enterprise. Dr. Schaffeld will evaluate your teeth to formulate an individualized treatment plan. Using minimally invasive procedures, you will have a new smile just in time for the new year. Give yourself the gift of confidence with an incredible smile.
Comments Off on Enhance Your Smile for the New Year with Your Dentist in Enterprise
No Comments
No comments yet.
Sorry, the comment form is closed at this time.