August 22, 2018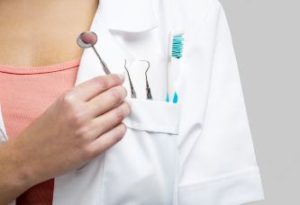 When it comes to finding a good dentist in Enterprise, where should you start? You'll be seeing them at least twice a year, so it's worth the time and effort to make sure they provide quality care right from the start! After all, your oral health is incredibly important to your overall quality of life – healthy teeth and gums not only allow you to eat all your favorite foods, but also smile and laugh with confidence. And since dental work is an investment that you don't make all that often, you want to make sure it's done right. So, if you'd like some tips for finding a great dentist who will provide great care for everyone in the family, keep reading below!
A Clean and Modern Office
It goes without saying that you want the office to be clean and hygienic. You also want to look for reasonably new equipment and up-to-date technology.
For example, does the office use digital X-rays, intraoral cameras and offer modern treatment options like clear braces? When a dentist invests in this kind of technology, it means a better experience for patients.
You Aren't Pressured To Buy Products
Sometimes a particular toothbrush or toothpaste can be really beneficial for a patient's specific needs. But, while it's nice to have the products your dentist recommends available for purchase right in the office, but you should never feel pressured to buy them.
The Dentist Spends Time Getting To Know You
You and your family will be seeing your dentist for many years. These visits are a lot more pleasant if they spend a little time at each appointment catching up with you!
Your Questions Are Answered
It's natural to have questions about your oral health and any recommended treatment. You should always feel comfortable asking your dentist anything that comes to mind about your dental health.
A Great Staff
You'll be interacting quite a bit with everyone from the front desk staff to the hygienist and the dental assistants. Look for an office with friendly, competent staff members who work well together.
Good Reviews
Whether for goods or services, reviews have been a game-changer for consumers. It's the ultimate way to get word-of-mouth recommendations and find out what the actual "patient experience" has been for other people.
With these guidelines, you'll be sure to find a dentist that you'll enjoy getting care from for many years!
About the Author
Dr. Tyler Schaffeld is a general, cosmetic and restorative dentist in Enterprise who provides outstanding dental care to his community and builds long-lasting relationships with his patients. If you're looking for a new dentist and have any additional questions, he can be reached via his website or at (541) 426-3783.
Comments Off on How Can You Find a Good Quality Dentist in Enterprise? Start Here!
No Comments
No comments yet.
Sorry, the comment form is closed at this time.