November 3, 2020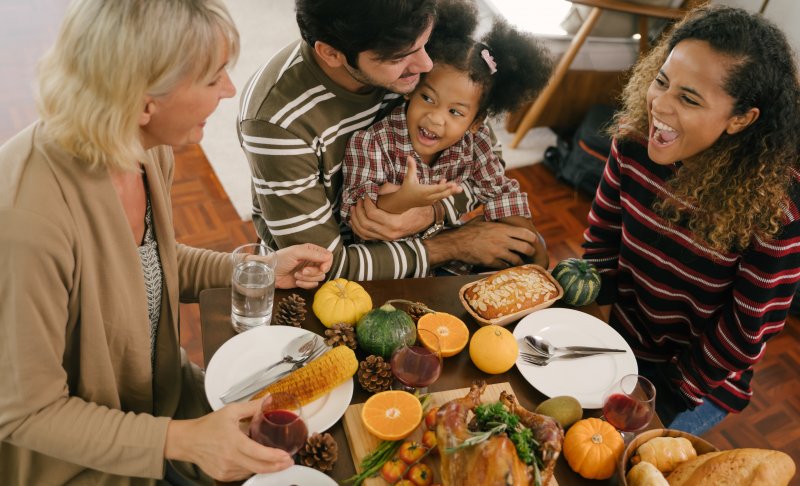 Americans all over the country are looking forward to Thanksgiving Day. Whether you're meeting up with extended family to catch up or just having a quality dinner with your kids, you are probably looking forward to some of your favorite dishes. However, this delicious holiday isn't usually so great for your smile. Thankfully, your dentist in Enterprise is here to help. Continue reading to learn some tips for caring for your smile this Thanksgiving.
Bring Your Floss
Whether you're spending Thanksgiving at home or are heading to a family member's house, remember to stock up on floss beforehand. For many families, it is an all-day event with all sorts of food. You begin with appetizers, like cheese and crackers, move onto the main turkey, potato, and cranberry sauce, and then finish up with slices of a variety of different pies. You are bound to leave some food debris behind and in between your teeth. By taking time to floss between courses, you can help to dislodge food particles and plaque so you can remain cavity free.
Eat Healthy
We all love the starchier dishes like stuffing, mashed potatoes, and dinner rolls, but you should definitely practice portion control. Just like sugar, starch sticks to the teeth and feeds acid-producing bacteria in the mouth. Ultimately, you are more likely to end the holiday with tooth decay. Save the largest portion of your plate for foods like turkey, green bean casserole, and other vegetables.
Avoid Sticky Sweets
For many, Thanksgiving dinner would not be the same without the cranberry sauce, gravy, and pecan pie. Unfortunately, they all have one thing in common – your teeth are not a fan. If you can't go without these things on Thanksgiving Day, make sure to limit your portion sizes and rinse your mouth out with water afterwards so you can avoid their negative effects.
Cut Out the Wine
Many people like to enjoy their Thanksgiving dinner with a glass of wine. Even though it can compliment the meal nicely, this beverage is highly acidic. This will cause it to both stain your teeth and weaken your teeth's protective enamel. It is best to avoid the wine this year and stick to a glass of water or milk instead. If you want to enjoy an adult beverage, have a light beer or a gin and tonic.
Show your smile some love this Thanksgiving. By taking the steps listed above, you are much more likely to come out of the holiday season cavity-free!
About the Author
After studying biochemistry at Central Washington University at the top of his class, Dr. Tyler Schaffeld earned his DMD from Oregon Health and Science University, graduating second in his class. For more information on keeping your smile healthy or to schedule an appointment, visit his website or call (541) 426-3783.
Comments Off on 4 Tips for Caring for Your Teeth This Thanksgiving
No Comments
No comments yet.
Sorry, the comment form is closed at this time.