November 16, 2019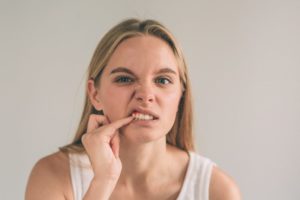 Do you have gum disease? A recent study from the Centers for Disease Control and Prevention (CDC) found that 50% of Americans aged 30 and older suffer from this troublesome disease. They estimate that about 64.7 million Americans have periodontitis, the advanced form of gum disease that can cause permanent damage to tissue and teeth. Since it doesn't necessarily change the color or shape of your teeth, it can be easily overlooked as permanent damage sets in. Alongside tooth loss, periodontitis has been linked to other serious health conditions like pregnancy complications, diabetes, stroke, Alzheimer's, and even heart disease. Your dentist in Enterprise, OR can show you how to spot gum disease and how to stop it.  
Gingivitis vs Periodontitis: Gum Disease 101
Gum disease, also known as periodontal disease, occurs when plaque builds up along your gumline. If it's not cleaned out regularly, the bacteria that plaque contains can infect the surrounding gums, damaging tissue and even bone in some cases. As with most diseases, the longer gum disease is left untreated, the more damage it can do.
Gingivitis is the earliest stage of gum disease and is the easiest to reverse. This is when the harmful bacteria attack your gums, causing them to swell and bleed easily in response. Although tender and red, the gums suffer no permanent damage from gingivitis.
Periodontitis develops if gingivitis is left untreated. This advanced stage of periodontal disease is when the infection damages the gums, tissue, and teeth. In some cases, it destroys the fibers that anchor your teeth to your jaw, and those teeth might need to be removed.
What to Look Out For
Although gum disease might not be obvious in your smile, it's important to catch it as early as possible. Some key symptoms to look for are:
Red, inflamed, or tender gums.
Gums that bleed when you brush or floss.
Bad breath or a bad taste in your mouth.
Receding gums.
Loose permanent teeth.
How to Reverse Gum Disease
If you treat your gum disease before it reaches the bone and causes permanent damage, it can be reversed. Here are some key ways to keep your gums healthy:
Floss and brush your teeth twice a day.
Use fluoride toothpaste and therapeutic mouthwash.
Get regular dental cleanings.
Quit smoking.
Gum disease is very common and can be very harmful. Be sure to see your dentist at least twice a year so you can catch it as early as possible and keep your gums healthy.
About the Author
Dr Tyler Schaffeld graduated first in his class from Central Washington University, and second in his class from Oregon Health and Science University. He believes that healthy gums are a foundation for a beautiful smile and encourages his patients to learn how to spot and prevent gum disease. If you'd like to know more about the article you just read, he can be reached via his website or at (541) 426-3783
Comments Off on Most Adults Have Gum Disease: Do You? How to Spot it and How to Stop it
No Comments
No comments yet.
Sorry, the comment form is closed at this time.