July 22, 2016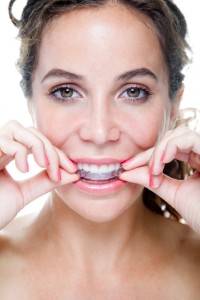 Did you know that your teeth are always shifting? Perhaps you had orthodontics as a child or adolescent, however if you haven't been faithful about wearing your retainers your teeth will begin to shift and move gradually. Maybe your teeth started off with a small gap that has grown bigger over time, or small rotations that have shifted into misalignment. Whatever the case may be, if your teeth need some minor adjustments or simple alignment, then cosmetic dentistry done with MTM Clear Aligners may be the solution for you.
What are MTM Clear Aligners?
MTM stands for minor tooth movement, and the system utilizes clear plastic aligners designed to apply gentle pressure for gradual movement. MTM focuses on the front anterior teeth and can help issues like gapping or spacing, slight crowding or overlap, and small rotations. MTM can't correct malocclusion, or bite issues. You'll wear your aligners 20-22 hours per day and remove them for eating and brushing.
What are the Benefits of MTM?
Because MTM is designed for minor movement, treatment can be completed in a much shorter time frame, often three to six months is enough time to achieve the desired results. This means less visits to your dental provider and less cost, as MTM is much more affordable than traditional braces or other alignment systems.
Your aligners are removable so you can take them out to eat, which means no restrictions to your diet, as there would be with traditional braces. You'll also be able to remove them easily for brushing and flossing, which means your home care routine won't suffer.
Straight teeth also benefit your oral health because they're much easier to keep clean, decreasing your risk for tooth decay or periodontal disease. When your bite is aligned it also decreases your chances of developing a jaw joint disorder known as TMJ.
Dr. Tyler Schaffeld is your dentist in Enterprise who is also a certified MTM provider. To learn more about MTM and find out if you're a candidate, the first place to start is an initial consultation with Dr. Schaffeld. With a thorough exam, x-rays and models of your teeth, he can determine if MTM will be right for your needs. If MTM is not in your future, Dr. Schaffeld would be happy to discuss some other cosmetic options that will help you achieve the smile of your dreams.
Don't let crooked teeth diminish your confidence or your oral health any longer! Contact our office today to schedule your consultation with Dr. Schaffeld and learn more about your options.
Comments Off on Cosmetic Dentistry in Enterprise With MTM Clear Aligners
No Comments
No comments yet.
Sorry, the comment form is closed at this time.