February 1, 2017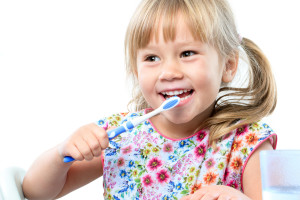 February is National Children's Dental Health Month. It's the perfect time to teach kids how to brush, floss and eat right. Also, be sure check in with Dr. Tyler Schaffeld, your dentist in Enterprise. He offers the preventive and restorative services your children need,  and he has a lot to say about taking care of young smiles.
Defeat The Plaque Monster
One of the themes of National Children's Dental Health Month is "Defeat Monster Mouth." The American Dental Association (ADA) is partnering with dentists, schools and of course, parents, across the country to defeat one of the biggest enemies of kids' oral health: plaque.
What is plaque? Plaque is that sticky biofilm that collects on and between teeth and at the gum line. It attacks the oral health of both children and adults, causing cavities and gum disease because of the bacteria it contains.
The ADA calls plaque a "monster" because the corrosive acids it secretes lead to destructive tooth decay and gum disease. Left untreated, these oral health conditions lead to tooth loss.
How Can I Protect My Child's Smile?
Your children's dentist in Enterprise says caring for oral health begins at home as parents teach youngsters dental hygiene habits early on–as soon as that first baby tooth erupts around age six to eight months. Mom or Dad should use a moistened 4×4 or clean washcloth to wipe out baby's mouth after each feeding. Restrict bedtime bottle feedings to avoid destructive baby bottle tooth decay.
As the child grows, so does the oral care routine, adding brushing with non-fluoride toothpaste and a soft brush when the first baby tooth erupts. And, regarding that first tooth, it signals it's time for your little one's first trip to Dr. Schaffeld's office. The dentist will look in baby's mouth, count teeth and help him or her feel relaxed in the treatment room.
Then, as more teeth emerge, help your child to brush for two minutes two times a day and to floss daily, too. By age eight or so, most kids can brush and floss independently but need Mom or Dad to check their work until age ten.
At the dental office, oral exams check for decay and gum disease, correct tooth alignment,  proper bite and signs of bruxism, or tooth grinding. Dr. Schaffeld takes digital X-rays as needed and often uses plastic sealants on back molars and simple fluoride treatments to ward off decay.
What Else Can I Do As A Parent?
Parents, now is the time to model good eating habits for your children. A tooth-friendly diet includes:
A limited amount of processed sugars
High fiber breads and rolls
High calcium dairy
Fibrous fruits and vegetables
Water to stimulate saliva production and to wash tooth surfaces
Lean meats and fish
Additionally, children (and adults, too) should wear athletic mouthguards if involved in sports to cushion teeth from impact and from the repeated stresses on teeth and jaw joints.
Finally, during a routine exam, the dentist checks for jaw development and tooth eruption and alignment. In keeping with ADA guidelines, Dr. Schaffeld advises an orthodontic evaluation for all children by the age of seven.
Start Young
The investment of time and energy in your child's oral health will pay off with years of bright, healthy smiles. Dr. Schaffeld and his team want to help. Please contact the office to arrange routine check-ups and cleanings for your children.
Comments Off on Children's Dental Health Month Tips From Your Dentist In Enterprise
No Comments
No comments yet.
Sorry, the comment form is closed at this time.