February 4, 2023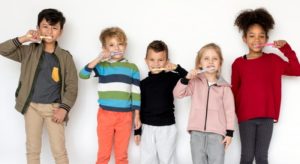 February is usually associated with Valentine's Day, but it is important for another reason: it's Children's Dental Health Month. By teaching your little ones how to implement a great dental routine, you will help keep their oral health in top condition. Essentially, this specially designated oral health month is still about love…showing them how to appreciate their teeth by brushing and flossing! And what better way to celebrate than to buy them cool dental products? Here are four ideas that your children are sure to enjoy (and better yet, use!).
Product #1. Electric Toothbrushes Brushes
Electric toothbrushes are not only fun and easy to use, but they have also been proven to be extremely effective at removing food particles, plaque, and other debris. Even better, now that technology has become such a part of society, you can purchase one that connects to your phone. Many brands have an app that allows you to track which surfaces your little ones have missed when they brush their teeth. This not only adds a visual component to their dental care, but it allows you to see where they may need a little extra help.
Product #2: BrushyBall
Playing games is something children always love to do so why not use one to encourage best dental practices? That's exactly what BrushyBall does. This game has a bright yellow animated coach that teaches your children how to brush their teeth with the correct technique. Its cute voice will guide them through a follow-the-leader type of game to maintain great oral health.
Product #3. Brushies
The task of getting your children excited enough to be consistent in caring for their teeth and gums can appear seemingly impossible. After all, how fun can a toothbrush be? Thanks to Brushies, the answer is super fun! This dentist-imagined product combines a traditional toothbrush with finger puppets, which makes it not only incredibly effective but extremely engaging as well.
Product #4: GumChucks
Kids love playing with beloved characters and this product capitalizes on that! When it comes to healthy teeth, there's no better protagonist than Plaque Man. This adorable little hero comes with the GumChucks for Kids—an innovative flossing tool that comes in the form of miniature nunchucks. Your children will enjoy looking at the character trading cards while also being challenged to master the art of flossing.
Get your little ones excited about their oral health journey during Children's Dental Health Month! With these engaging and effective dental products, they are sure to keep their smile healthy and bright all year long.
About the Author
Dr. Tyler Schaffeld keeps the smiles of Enterprise whole, healthy, and beautiful! He has been practicing dentistry since graduating second in his class at Oregon Health & Science University in 2013. By offering personalized care for your whole family, his goal is to keep your oral health in top condition with preventive services like checkups and cleanings, dental sealants, and more. To schedule an appointment for you or your family, visit his website or call 541-263-5435.
Comments Off on 4 Awesome Gifts to Celebrate Your Child's Smile for Children's Dental Health Month!
No Comments
No comments yet.
Sorry, the comment form is closed at this time.