January 11, 2021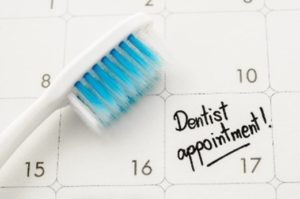 With the holidays behind you, life is about to get pretty busy again. Although your schedule might fill up quickly, make sure a trip to your dentist in Enterprise is at the top of your priority list. The American Dental Association recommends having a cleaning and checkup at least twice a year. Although you have all year to schedule an appointment, there are 5 benefits of having a dental checkup early in the year.
1. Your dental insurance has been reinstated.
At the end of the year, your dental insurance expires. Thankfully, your benefits are reinstated on January 1st. As a result, you can enjoy reduced rates for the services your teeth and gums need to stay healthy. By paying your monthly premiums, you have access to comprehensive coverage, including preventive care. You can use your monthly investment for a cleaning and checkup to help you reach your oral health goals in 2021.
2. Reach your deductible early.
Besides preventive services, your coverage also includes discounted rates for restorative treatments. Dental issues don't need to be left untreated because your insurance can be used to help offset the cost. After reaching your annual deductible, you're given an allowance to use toward the cost of common treatments, like root canals and tooth extractions.
3. Reduce your overall oral health expenses.
Dental care focuses on keeping your smile healthy because research shows every $1 spent on prevention can save you as much as $50 on restorative services. Visiting your dentist allows them to preserve your oral health to save you money throughout the year.
4. Maximize your dental insurance.
On average, less than 3% of Americans meet or exceed their annual limits. Scheduling an appointment early in the year gives you more time to use your benefits to lessen the likeliness of throwing potentially hundreds to thousands of dollars down the drain when your coverage expires.
5. Prevent dental emergencies.
1 in 6 Americans has a dental emergency annually. While you can't always avoid them, you can significantly lower your risk by having a dental checkup within the first few weeks of the year. Your dentist will look for any oral health concerns that can turn into a big problem down the road, like an untreated cavity. They'll provide the intervention you need to prevent an unplanned trip to your dentist during the months ahead.
Invest in a Healthy Smile
You can start the new year with the healthy, beautiful smile you deserve by visiting your dentist. As you pack your holiday decorations, make sure a cleaning and checkup are on your to-do list.
About Dr. Tyler Schaffeld
Dr. Schaffeld earned his dental degree from the Oregon Health and Science University. He strives to build strong relationships with his patients to help them achieve optimal oral health and wellness. If it's time for your next preventive visit, contact our office today to schedule an appointment. He works with many leading insurance carriers to keep your care within your budget.
Comments Off on 5 Benefits of Scheduling a Dental Checkup Early
No Comments
No comments yet.
Sorry, the comment form is closed at this time.