September 8, 2019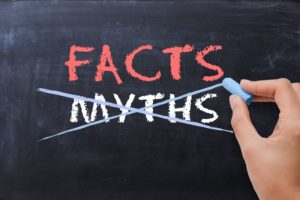 Countless dental myths have been circulating for decades due to misconceptions about oral health and hygiene. Unfortunately, they could be causing more harm than good by preventing people from getting the treatments and care they need from their dentist in Wallowa County. Debunking tall-tales about your mouth could be just what you need to get the tooth whitening treatment you've always wanted or prevent you from developing easily preventable oral health problems. Read on to learn about four common dental legends that are simply not true.
I Don't Need To Visit The Dentist If I Brush and Floss At Home
Countless people put their semi-annual checkups and cleanings with their dentist on hold because they feel like their dentist isn't able to do anything more than what they're doing at home. This is a harmful misconception that can open the door for serious oral health problems to begin developing and wreaking havoc on your mouth. Your dentist is professionally trained to spot signs of oral conditions like cancer, gum disease, and infection. These can all result in serious harmful effects such as tooth loss. They're also equipped with special gadgets that can clean the hard-to-reach nooks and crannies of your mouth that you can't get with your toothbrush at home.
Teeth Whitening Treatment is Dangerous
While store-bought teeth whitening kits aren't a reliable or proven safe way to brighten your smile, professional treatment from your dentist is. All the products they use have been rigorously tested and proven to be safe for your teeth. They are even approved by the American Dental Association, unlike the products and ingredients found in most whitening kits you can buy at the grocery store. In addition to using safe products, your dentist can offer virtually guaranteed results in a single appointment!
Because My Teeth Are White, They're Healthy
Oral health problems like cavities can even impact straight, white, and beautiful teeth that people compliment all the time. Although your smile may look healthy, that doesn't always mean that it is. That's why it's so important to visit a trained professional every six months. They can spot hidden problems by using advanced technology like digital X-rays and intraoral cameras.
Bleeding Gums Are A Normal Side-Effect of Brushing My Teeth
While your gums are resilient, if you notice blood after your brush or floss, something's most likely wrong. Using too much force during your oral hygiene routine and gum disease can cause this problem.
When harmful oral bacteria accumulate in your mouth, they release toxins that can irritate your gums and result in bleeding, which is one of the first signs of early gum disease, or gingivitis. Brushing too aggressively can also result in bleeding and cause additional oral health problems like receding gums that separate from your teeth and expose the roots. Either way, it's important to visit your dentist to make sure you receive necessary treatment and protect your smile from developing even more problems.
Busting these four dental myths may be just what you needed to schedule that appointment you've been needing with your dentist. Instead of waiting until oral health problems worsen and cause you discomfort, get them sorted out before they become severe by scheduling routine checkups and cleanings.
About the Author
Dr. Tyler Schaffeld is passionate about studying dentistry and continuing to sharpen his skills and keep up with the latest advancements in his field. He focuses on providing patients with high-quality preventive dental treatment that fights oral health problems while they're small and easier to take care of. This way, his patients don't have to worry about experiencing discomfort or needing to make unplanned visits to their dental professional. For questions or to schedule a routine checkup and cleaning, visit his website or call 541-426-3783.
Comments Off on 4 Dental Myths That Could Be Keeping Your Oral Health From Improving
No Comments
No comments yet.
Sorry, the comment form is closed at this time.