February 10, 2018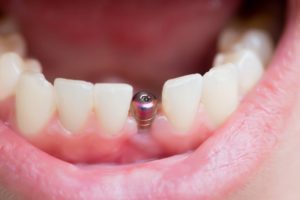 One very important part of dental care is often overlooked – education. Throughout any process you're involved in, you should be simultaneously increasing your dental IQ. Thus, given that dental implants in Enterprise have exploded on the scene as a way to restore your missing teeth, your local dentist finds it important that you know and understand the differently terminologies that are used in relation to the process. So as you continue reading, prepare to briefly enter the world of dental terminology and leave feeling more informed that ever before.
What are Dental Implants?
Before moving forward, let's establish what dental implants are. They are surgically inserted titanium, ceramic or zirconia posts that attach to your jawbone and fuse with your existing bone mass. Providing a sturdy foundation, they then allow for a fixture to be placed on top of them, including a crown, bridge or implant-supported denture.
Abutment
An abutment is a connector that your dentist will build into or attach to the top of your implant. It serves as an attachment for your new fixture to affix to.
Abutment Teeth
This term refers to the teeth that support a bridge or partial denture. The bridge is attached to the abutment tooth during a full crown, inlay or onlay prep. For a partial denture, clasps or rests are used to support the denture on the abutment tooth.
Ceramic
This is a material used to make dental implants and is comprised of clay that is hardened by heat. It offers a more realistic look than titanium and is easier to attach to your jawbone.
Crown
The crown is used to replace a single tooth (the area visible above the gum line) in cases of breakage, decay, infection or injury. It typically fits over the top of the existing tooth.
Dentures
Dentures are prosthetic appliances that are made to replace missing teeth. Usually crafted from porcelain or a resin compound, they come as removable or permanent in the case of implant-supported dentures.
Endosteal Implant
This process involves your dentist placing small screws, plates, blades or cylinders directly into the jawbone through a surgical procedure to replace missing roots.
Eposteal Implant
The eposteal implant is considered somewhat outdated and involves attaching the implant to the surface of the jawbone instead of screwing it into the marrow cavity like the endosteal method.
Osseointegration
This term refers to the fusing that occurs when your dental implant is inserted into your jawbone. The bone (osseo) fuses (integration) with the implant over time.
Subperiosteal Implant
A subperiosteal implant sits on top of the jawbone with the posts of the metal framework protruding through the gum to hold the prosthetic tooth (or teeth) in place. If a patient has minimal bone height or is unable to wear conventional dentures, a dentist might use this method for attaching an implant.
Titanium
Titanium is the most common type of material used to make dental implants because of its great strength, its lightweight structure and its ability to attract oxygen molecules, which helps keep your gums healthy.
Zirconia
For people who have titanium allergies, another option is zirconia. They have no prosthetic connectors, so the risk infection is lower and, in some cases, is better for gum health.
Congratulations! You are now better educated on the different processes of the dental implant procedure. As a result, you can feel more comfortable about making decisions on which options to choose and their outcomes. To learn more about the process, feel free to reach out to your local dentist today to schedule a consultation.
About the Author
Dr. Tyler Schaffeld studied biochemistry at Central Washington University and then went on to earn his Doctor of Dental Medicine degree from Oregon Health and Science University. Constantly looking to make the perfect marriage between biology, engineering, and art, Dr. Schaffeld practices at Tyler B. Schaffeld, D.M.D. and can be reached for more information through his website.
Comments Off on Simplifying the Language of Dental Implants in Enterprise
No Comments
No comments yet.
Sorry, the comment form is closed at this time.