May 5, 2016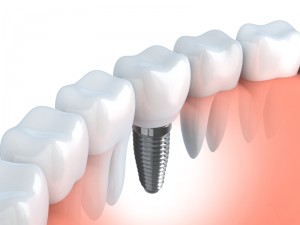 According to the American Academy of Implant Dentistry, more than 3 million people across the United States have dental implants. These experts say that number is growing daily. What's involved in the Enterprise dental implant process, and how do you care for these modern prosthetics from Tyler B. Schaffeld DMD?
The stable, beautiful dental implant
A dental implant is an artificial tooth. Comprised of a titanium metal screw, metal alloy abutment, or extension post, and a realistic, all-porcelain crown, the dental implant resides right in the patient's own jaw bone. One of the unfortunate results of tooth loss is gum shrinkage and jaw bone recession.
Unlike traditional bridgework and dentures which simply rest on top of the jaw bone, the dental implant is right in the bone, bonding with it through a process called osseointegration. This strong bond effectively exercise and strengthens the jaw which in turn anchors the implant for years of normal chewing, speaking and facial appearance.
Also versatile, Enterprise dental implants support single-tooth replacements or even partial or full dentures–either removable or fixed as the patient requires. All a patient needs is a sufficiently dense jaw bone, good oral health and good overall health. While people who smoke can receive dental implants, non-smokers enjoy better placement and retention rates than tobacco users.
Enterprise dentist, Dr. Tyler Schaffeld, examines the patient to see if a dental implant would work.  If so, he refers him or her to a trusted oral surgeon in the area who places the implant device in the bone during a simple in-office procedure. Patients who need bone augmentation to strengthen the jaw also undergo these procedures with the oral surgeon. After several weeks of healing, the patient sees Dr. Schaffeld again to receive the implant restoration, a custom-made, realistic porcelain crown.
Caring for a dental implant
Your dentist in Enterprise, OR recommends the following aftercare for all his implant patients:
Clean your dental implant(s) twice a day with fluoride toothpaste and a soft toothbrush.
Floss carefully around each implant to remove bacteria and plaque that cause gum disease.
Get semi-annual check-ups and hygienic cleanings with Dr. Schaffeld and his staff.
Stop smoking because the toxins in cigarettes undermine gums and bone.
Eat a healthy, low-carb diet.
Drink plenty of water every day.
While dental implants do not decay, implant sites are subject to peri-implantitis, an infection similar to gum disease. This inflammatory condition can redden and swell gums and even compromise underlying bone. If this happens, the implant may fail and need removal. While implant failure is uncommon, peri-implantitis causes it. So, keep implants very clean, and stop smoking.
See your Enterprise dentist
Dr. Tyler Schaffeld believes in preserving natural tooth structure. However, if tooth loss occurs, a well-functioning and realistic-looking dental implant might be your best tooth replacement option. For more information on placement and care of dental implants, contact Dr. Schaffeld's office for an implant consultation.
Comments Off on How to care for an Enterprise dental implant
No Comments
No comments yet.
Sorry, the comment form is closed at this time.